Yellow & Green Album by Baroness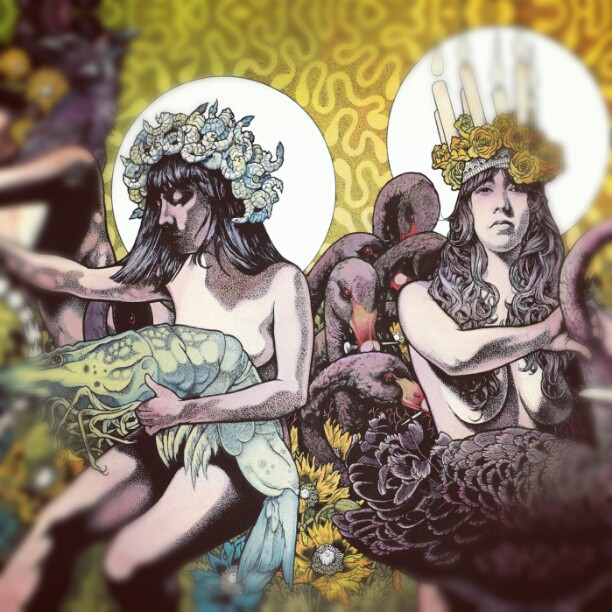 I don't even know where to start with this album… it must be some of the best music to have ever graced this planet since ever.
Baroness is a group that I've grown really fond of lately.
Stuff from their earlier releases reminisce Mastodon for sure, which can never ever be a bad thing… but I remember hearing Jake Leg from the Blue Record and I've been hooked on this band ever since.
They mix an eclectic style of rock with the more heavy and beat up sounds of sludge metal… there's some Thin Lizzy in there for sure… vintage speakers… beautiful roaring drums… emotional vocals and timeless lyrics… I… It's impossible for music to get as good as this… I still haven't properly digested it and I probably never will.
Yellow Album
From the intro to the first record we go into a straight banger, Take My Bones Away, the bassline is epic in this! Around 2:20 it just goes haywire with a beautiful display of musicianship and emotional intensity that just has to be heard to be understood!
This record keeps the emotional intensity up on tracks like March to the Sea, which is a personal favorite, Little Things that evoke emotions I can't share on here…Twinkler grants us a more acoustically oriented break as we segway into a beautifully retro Cocainum until we finally reach Back Where I Belong which is another one of those songs on the record that evokes astronomical levels of Feels inside of me.
Sea Lungs mixes the intensity of tracks like Take My Bones Away but adds a thumping drumbeat and resolving chorus… awesome stuff!
And then we've finally reached the beat up glockenspiel feels-fest that is Eula … just listen to it, there's no point in me attempting to describe it… fuck it.
---
Green Album
This intro right here… is one of the… ugh … I'm chopping onions as I start to write this… it's the soundtrack to the joys of life itself and being with the one you want to be with, botherless… in a field of green, surrounded by nothing but the serenity of nature and love.. As 01:31 hits you, you down the first couple of swigs of your favorite beer, served ice cold as the sun smiles at you.
Oh you think that's cringe? Well give it a listen before you judge me will ya!
Board up the house has a really cool build-up as the latter record sort of flirts more with pop rock writing than the previous record… in ways.
Mtns.(The Crown and The Anchor) is a whiskey lullabye if there ever was one and the drunken sound only continues on into Foolsong before Collapse lulls you along in stoned serenity before Psalms Alive brings a trippy drum-centric tune that is really amusing to listen to.
Stretchmarker has these beautiful passages that bring back…possibly a nostalgia for whatever you felt or reminisce as you hear the intro…magical!
The Line Between picks up the pace with some really interested distorted and modulated leads caressing all around before the album finishes, without overstaying in the least, with If I Ever Forget Thee, Lowcountry, a serene outro that makes me feel withered and empty… maybe I won't be able to relive what I felt when I heard the intro…like ever…
Deep dude… I know… almost too deep…
Yet here I am…listening to this album for what must be the 50th or 60th time already… What a release… What a band… What a journey.
---
Images for todays post: